At Almende, you'll work with the most talented data scientists, engineers, and thought leaders to create a better world. From data science and engineering jobs, to marketing and business development, to finance and support positions.
Almende group is an informal and flat organisation. You'll be surrounded by a diverse and dynamic team with multiple nationalities. We offer you the freedom to develop yourself within the company and encourage you to evolve professionally with guidance from the best supervisors to reach your full potential.
So if you're not afraid to speak up and form your own opinion, and you want to work autonomous and venture on the ideas you believe in, then Almende is fit to your needs. Don't wait any longer and apply now!
We're always eager to meet new talent, so check out our open positions or apply with an open application if you think we're missing you in our team!
See what our colleagues have to say about working at Almende here. Or take a look at our jobs and internships here.
Build a career in an innovative environment. We'll provide the personal support, inclusive culture and technology you need to become the best version of you.
Find a role where you can build an exceptional experience for yourself and make an impact in a self organized world.
Take a look at what our colleagues have to say about how they began their journey at Almende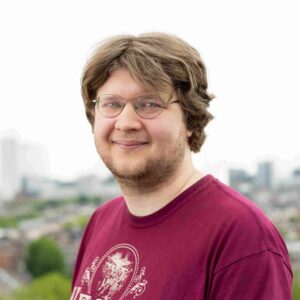 Doing an internship at Almende was a great experience for me. I was surrounded by curious researchers who liked to discuss all kinds of things and were all doing their own research, so there was more to think about than just my own project. The office is nicely located at the station, so nice walks and lunches are all part of the routine. I was also very well guided, and I could always go somewhere with my questions or concerns. My project was not an easy one, and it needed help from other developers, from our sysadmin, and from our data analyst, and I definitely got that help! At the end of the internship, the whole company also helped prepare my defense. I think it's a great company to join if you like research and discussion, with a light atmosphere where everyone can participate in everything.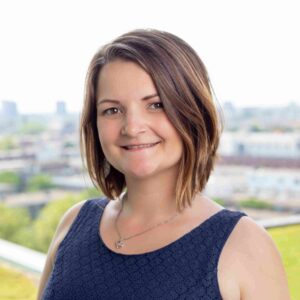 As a research engineer at Almende, I'm constantly evolving and learning new skills. I've worked on a variety of projects, including in the fields of smart manufacturing, virtual reality, cultural heritage development, and fraud detection, among others. In each project, I have been free to explore new technologies and had the autonomy to decide how to accomplish Almende's goals. Since most of Almende's projects are international collaborations, I've had the chance to travel and interact with other cultures. By helping with project acquisition and brainstorming about how to produce viable products from research outcomes, I've learned to think about problems from a business perspective. On several occasions, I've had the opportunity to work on fun and side-projects, which both taught me new skills and gave me a chance to blow off some steam with my colleagues. On top of the work-related benefits of a job at Almende, the company also encourages personal balance. The company offers a great deal of flexibility and adapts to employee's personal needs. This was helpful when it came time for me to finish my PhD, start a family, and deal with the challenges of living through a pandemic. Through my job at Almende, I have reached an ideal level of job satisfaction and work-life balance.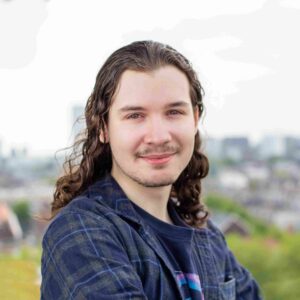 At the end of 2018, I started at Almende with an internship and a master's final project. Out of the experiences I've achieved, that was the closest I got to a job at the time. I clearly thought it was okay to hang around for a while after that research; two years later I'm still here and I'm having a good time. If I had to say in one word what I like about Almende, it would be that Almende is comfy. Ever since I was an intern, I've been valued and interested in what I do and what I contribute. We have a Show-and-Tell every other week and talk about our current work and research.  At Almende I can be flexible in exactly how and when I work, so that I can organize my life the way I like. This made a transition to the lockdown time very easy. Because I was already so flexible, that was easy to absorb. It is also nice that the office is twice tripping away from Rotterdam Central, and that everything is nearby.