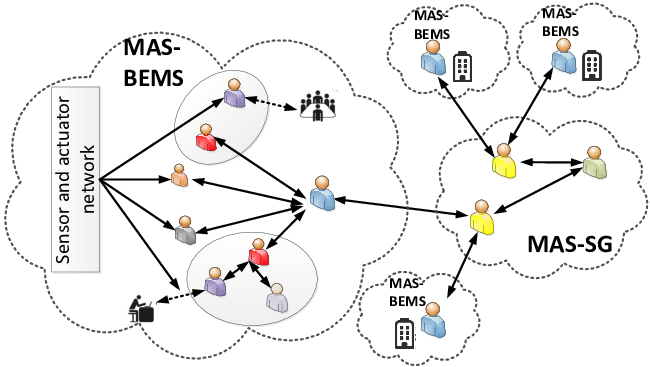 Smart Grids – Building Energy Management Systems: The Art of Optimizing Energy Supply and Demand for Comfort
Duration: 11/2012 – 11/2016  Funding: TKI Smart Grids 2012
The energy market is radically changing due to the advent of Smart Grids (SG) and Building Energy Management Systems (BEMS). Smart Grids help manage the supply and demand on the (renewable) energy market in a dynamic way, while BEMS optimize individual buildings for comfort and energy efficiency. The SG-BEMS project develops an agent-based ICT framework that fosters the synergy between Smart Grids and Building Energy Management Systems (BEMS), allowing user behaviour and demand to influence the energy market, and vice versa. In this respect, the project looks at both B2C (housing) and B2B (office buildings) applications. The proposed solution is an agent-based platform that will provide communication and interaction between different BEMS and Smart Grids. The modular character of such a system allows for scalability.
Almende has acquired plenty of experience on the subject of smart energy grids in several closely related European FP projects, in particular Adapt4EE, SEAM4US and INERTIA. In this project, Almende contributed its open source Common Hybrid Agent Platform for developing agent-based SG-BEMS that are coupled to wireless sensor-actuator networks for internal building ventilation, air, heating and lighting management. In addition, Almende contributed to the preference modelling for the B2B and B2C applications.
SG-BEMS aligned well with our vision on the Energy domain, by transforming conventional power grids to dynamic smart grids suited to the real-world interplay of supply and demand. The project contributed to our understanding of smart grids and led to the further development of our open-source Common Hybrid Agent Platform along with these principles.
Need specific information regarding the project? Please contact our senior consultant for more information.