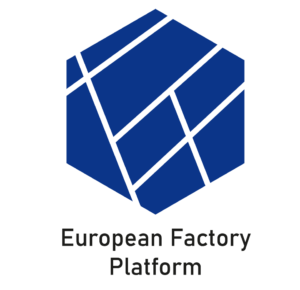 European Connected Factory Platform for Agile Manufacturing
Duration: 1/2019 – 12/2022  Funding: H2020 – Factories of the Future
Partners: AIDIMME, Information Catalyst for Enterprise (ICE), Fraunhofer, Airbus, Centre for Research & Technology Hellas (CERTH), Siemens, ISMB, ValueChain, Fortiss, Nextworks, Control 2K, Hanse-Aerospace, CNet Svenska, KLEEMANN, ELDIA, Ascora, Caixa Mágica, Salzburg Research, Lagrama, Brimatech, Elanyo, SRDC, Innovint Aircraft Interior, Walter Otto Müller, AM Allied Maintenance, 3D ICOM, University of Southampton, IT Innovation Centre, Austrian Standards International, Mil Oil
EFPF is a federated smart factory ecosystem and a digital platform that links different stakeholders of the digital manufacturing domain. The EFPF platform enables users to utilise innovative functionalities, experiment with disruptive approaches and develop custom solutions for specific needs. At the core of EFPF is an interoperable 'Data Spine' that provide open interfaces to support the integration of distributed systems and platforms with their integrated toolset and services. The EFPF federation is offered to the manufacturing and logistic companies as an open platform; to utilise the offered functionality, experiment with innovative approaches and develop custom solutions based on specific needs. The project demonstrates the power of federation through 3 embedded large scale pilots focusing on lot-size-one manufacturing and sustainable value networks in diverse sectors, while a cross-sectorial circular economy pilot is also incorporated. The results of the pilots are openly made available as lessons learned and best practices. The creation of the European smart factory ecosystem is supported by offering interested companies technical and financial support. The project is primarily composed of SMEs who have the agility to quickly react and adopt innovative solutions, while experience and market reach of big players such as Airbus and Siemens is also leveraged.
Almende has previously worked on smart manufacturing project DIGICOR, and will use the knowledge and expertise from this project to develop mechanics for dynamic risk assessment and smart contracting.
The project is relevant to Almende's vision on the manufacturing domain and builds upon its knowledge and expertise on smart manufacturing together with the projects vf-OS and DIGICOR. The risk assessment and smart contracting mechanics to be developed are relevant in areas outside the manufacturing domain as well, and the insights gained during the project can be relevant for spin-off company DoBots and Crownstone.
Need specific information regarding the project? Please contact our senior consultant for more information.