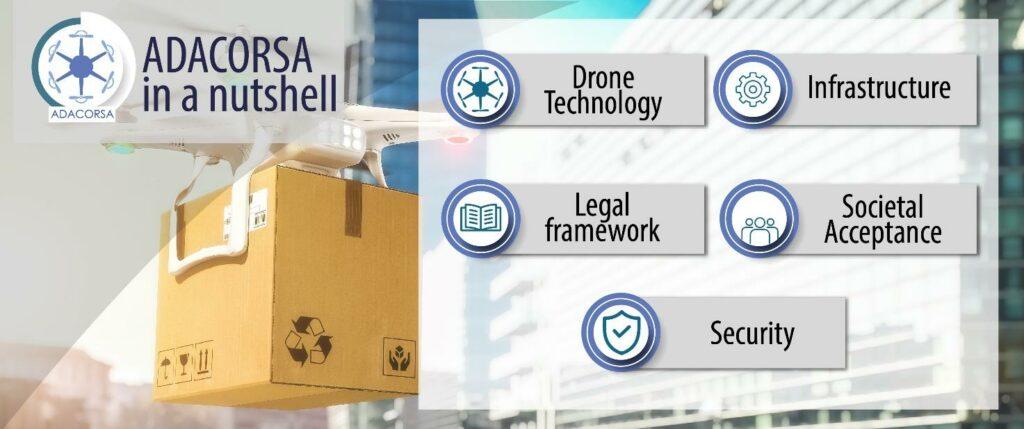 Provide technologies to render drones as a safe and efficient component of the mobility mix, with differentiated, safe and reliable capabilities in extended beyond visual line of sight (BVLOS) operations.
Duration: 05/2020 – 05/2023  Funding: HORIZON 2020, ESCEL JU                                     
Partners: INFINEON TECHNOLOGIES AG ,RUHR-UNIVERSITAET BOCHUM, FRAUNHOFER GESELLSCHAFT ZUR, FOERDERUNG DER ANGEWANDTEN FORSCHUNG E.V., GIESECKE+DEVRIENT MOBILE SECURITY GMBH, esc Aerospace GmbH, OSTBAYERISCHE TECHNISCHE HOCHSCHULEAMBERG-WEIDEN, UNIVERSITAET DER BUNDESWEHR MUENCHEN, Syrphus GmbH, BAUHAUS LUFTFAHRT EV, SysGo AG, Aviontek GmbH, Human Factors Consult GmbH, NXP SEMICONDUCTORS NETHERLANDS BV, ALMENDE BV, ANYWI TECHNOLOGY BV, Innatera Nanosystems B.V., TECHNISCHE UNIVERSITEIT , ELFT, TECHNOLUTION BV, Celestia Technology Group B.V., STICHTING NATIONAAL LUCHT- EN , UIMTEVAARTLABORATORIUM, AVULAR BV, INFINEON TECHNOLOGIES AUSTRIA AG, TTTECH , OMPUTERTECHNIK AG, FREQUENTIS AG, TECHNISCHE UNIVERSITAET GRAZ, Kompetenzzentrum – Das Virtuelle Fahrzeug, Forschungsgesellschaft mbH, UNIVERSITAET KLAGENFURT, CISC SEMICONDUCTOR GMBH, COMMISSARIAT A L'ENERGIE ATOMIQUE ET AUX ENERGIES ALTERNATIVES, Lund University, ERICSSON AB, Katam Technologies AB, INTERNET OF THINGS APPLICATIONS ANDMULTI LAYER DEVELOPMENT LTD, ALTUS LSA COMMERCIAL AND MANUFACTURING SA, HAROKOPIO UNIVERSITY, UAB METIS BALTIC, INSTITUTO SUPERIOR DE ENGENHARIA DO PORTO, AIRHOLDING SA (EMBRAER), FORD OTOMOTIV SANAYI ANONIM SIRKETI TUSAS-TURK HAVACILIK VE UZAY SANAYII AS, TURKCELL TEKNOLOJI ARASTIRMA VE GELISTIRME ANONIM SIRKETI, TURKIYE BILIMSEL VE TEKNOLOJIK ARASTIRMA KURUMU, SMART, ROBONIK, INFINEON TECHNOLOGIES ITALIA SRL, CONSORZIO NAZIONALE INTERUNIVERSITARIO PER LA NANOELETTRONICA, UNIVERSITA DEGLI STUDI DI PARMA, NOKIA TECHNOLOGIES OY, TAMPEREEN KORKEAKOULUSAATIO SR, CROSSCONTROL
Project's ambition is to provide European technology to render drones as a safe and efficient component of the mobility mix, with differentiated, safe and reliable capabilities in extended beyond visual line of sight (BVLOS) operations. BVLOS demands levels of autonomy and collaboration that have hitherto only been seen in the autonomous vehicle market. It is expected that technologies developed for those markets can be exploited for drone application. Technology can, however, only enable the compliance of operations with the regulatory framework which must also be defined. Fortunately, that process is already in flow with U-Space, building and testing the operational and regulatory framework that enables this new dawn from a regulatory and compliance perspective. ADACORSA will inform these regulatory initiatives about technical capabilities and constraints, based on development and prototype experimentation by partners from both within and outside of today's aerospace community.
Almende will develop a distributed simulation framework in which drone components, systems and to some extend architectures can be tested. The framework shall be based on ROS and Gazebo and allow for in the loop testing of both software and hardware. Almende will create a simulated environment to test algorithms in a close-to-real-time simulation and multiple possibilities within this environment.
The results of the project are relevant for DoBots, a Almende spin-off. DoBots is focused on software used to make machinery fully automated and synergetic with its surroundings. We expect that many of the software elements related to sensor data fusion, positioning and detect and avoid systems implementation, can be re-used for other applications and projects run by DoBots. 
Need specific information regarding the project? Please contact our senior consultant for more information.